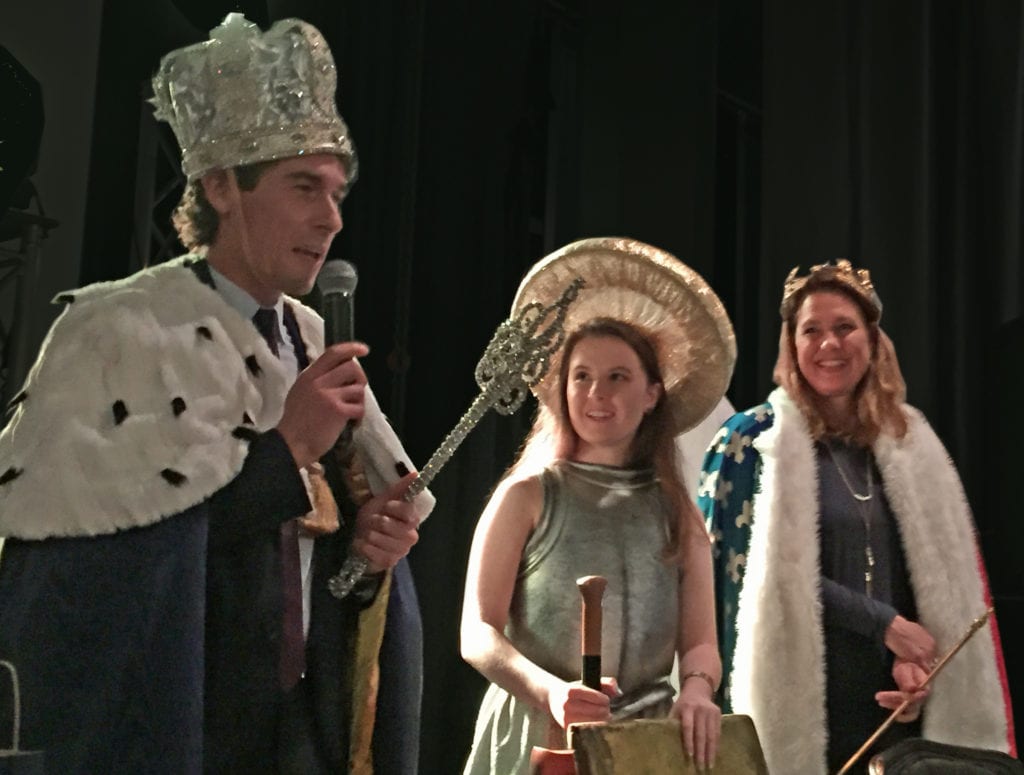 The Krewe de Jeanne d'Arc selects three community leaders each year to portray three featured characters in our parade: a young Maid Joan, a King Charles VII, and a Queen Yolande.
2018 Krewe de Jeanne d'Arc Royalty:
Maid of Honor (Joan of Arc): Martha Pinney, Louise McGehee High School
Queen Yolande of Aragon: Kristin Gisleson Palmer, recently elected as District "C" Councilmember
King Charles VII: Pierre-Loic Denichou, Academic Director, Ecole Bilingue de la Nouvelle-Orléans French immersion school
MAID OF HONOR:
Maid of Honor Martha Pinney boasts the krewe record for being the only child in the krewe to have walked in every parade since its inception: she walked in the first parade at age 6, and has not missed one parade, portraying various roles, from a lamb in Joan's village to a young Joan at 13, hearing her Voices. Ms. Pinney was selected from among a group of local young women age 16-19 who applied for the annual Maid of Honor award. She is a sophomore at Louise McGehee School, and a theater design student at NOCCA. She speaks fluent French and has made several trips to France. "I have aspired to be Joan of Arc since I first walked in the parade when I was 6 years old. I love this city and am honored to portray Joan of Arc on the 10th anniversary of the parade in the tricentennial anniversary of our city's founding," says Ms. Pinney.
Look for our young "Maid of Orleans", Jeanne d'Arc, on horseback in a white robe with faux armor breastplate in the 10th annual Joan of Arc Parade. Midway through the parade, she will receive her sword after a blessing by the Very Reverend Phillip G. Landry at St. Louis Cathedral. This "student Joan of Arc" is selected via written application and recommendation letters; reviewed by a Krewe de Jeanne d'Arc committee. Finalists receive an interview in French and English by the Cultural Project Officer / Chargée de mission Culturelle of the Consulate General of France in New Orleans. The annual contest is open to all young women in the Greater New Orleans area ages 16-19 who have demonstrated outstanding community leadership and have French language experience and skills. This is the first time the award has been given to a Krewe de Jeanne d'Arc member.
Past Maids of Honor include: Héloïse Trumel (2017), Margaux Schexnider (2016), Emma Martello (2015), Clara Bajeux (2014), Gretchen Neuenhaus (2013), Aggie Bell (2012), and Blair Davis (2010).
QUEEN YOLANDE OF ARAGON:
Queen Yolande will be portrayed by Kristin Gisleson Palmer, recently elected as District "C" Councilmember. Ms. Palmer portrayed the golden Joanie on the Pony in the 2011 Joan of Arc parade. Since 2013, the Krewe de Jeanne d'Arc has selected a female community and business leader to portray Queen Yolande, the power behind King Charles VII's throne, who funded Joan's army and influenced the army commanders to listen to Joan. Ms. Palmer's informal Joanie on the Pony role was part of the inspiration to create the Queen Yolande role as a community award in 2013.
Queen Yolande will be on horseback in the parade, dressed in a cloak composed of the coat of arms and heraldic colors of the historical Queen Yolande.
Past queens are Camille Whitworth (2017), Sandra Dartus (2016), Simone Bruni Crouere (2015), Mary Beth Romig (2014), Betsie Gambel (2013).
KING CHARLES VII: The "Dauphin" who became King due to Joan of Arc's efforts will be portrayed by Mr. Denichou, Academic Director for Ecole Bilingue de la Nouvelle-Orléans French immersion school. Since 2010, the Krewe de Jeanne d'Arc has selected a male community leader who embodies New Orleans' French connection to portray Charles VII. Monsieur Denichou's two year involvement in the parade and the annual Salon de Jeanne d'Arc, on behalf of his students, to his selection. His enthusiasm and creativity helped to create a new Salon tradition of involving youth in the otherwise academic adult conference, and involving more families and students in our walking parade.
He will wear a robe inspired by one of many paintings of the King's coronation at Reims Cathedral, at which Joan of Arc was present. At the parade's end, Mr. Denichou will be ceremoniously crowned by Ms. Pinney, Maid of Honor. The two will then cut the first king cake of the season, representing Joan of Arc's birthday cake as well as Carnival season tradition. The public is welcome and encouraged to bring their own king cake to share and enjoy.
Past kings include: Jean-Luc Albin (2017), Eric Belin (2016), Patrick van Hoorebeek (2015), Jacques Soulas (2014), René Bajeux (2013), Damien Regnard (2012), Lilian Cadet (2011) and David Villarubia (2010).
Try to spot these and other characters in our parade!