KREWE CAPTAIN AMY KIRK DUVOISIN KNIGHTED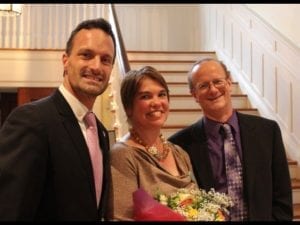 Amy Kirk-Duvoisin was awarded as a Knight of the Order of Arts and Letters (Chevalier de l'Ordre des Arts et des Lettres) on Friday July 21st during a ceremony held at the residence of Grégor Trumel, Consul General of France in Louisiana. The award was established in 1957 by the Minister of Culture to recognize those who have contributed significantly to furthering the arts in France and around the world.
"Because of your participation at a prominent level for the promotion and enhancement of French culture and history in New Orleans, and as you are a friend of the art and culture in this beautiful city, because you are a magnetic and dynamic leader, a partner of the consulate and a friend of my country, you deserve to be awarded as a Knight in the Order of the Arts and Letters," stated Monsieur Trumel before presenting the medal to Mrs. Kirk-Duvoisin.
Amy Kirk DuVoisin has lived in New Orleans since 2004 and is a prominent leader in the community. Many know her as "Captain Kirk", the founder of the Joan of Arc Project, LLC,which works to promote the story of Joan of Arc, the patron saint of New Orleans in the city with an annual parade to kick off Mardi Gras season, the Salon de Jeanne d'Arc, and other cultural events.
Among other endeavors, she has served on the board of the Tennessee Williams New Orleans Literary Festival, worked for the French Market New Orleans and the Louisiana Children's Museum.
News from our Facebook feed….
---
Site editor log-in